This summer I taught summer school through the Center for Urban Teaching (CfUT). CfUT is a program specializing in identifying, preparing and supporting high performing urban teachers. During our professional development meetings before summer school began, we learned that Milwaukee county has the largest racial achievement gap in the nation. The racial achievement gap refers to the educational disparities that are found amongst various ethnicities. While teaching at one of the CfUT partner schools this summer I was able to see the harsh realities of the achievement gap in person. It is the goal of the CfUT and many high performing urban schools in Milwaukee to close the achievement gap in Milwaukee.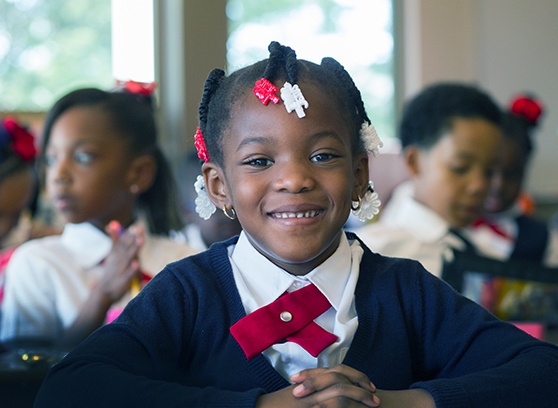 Milwaukee's high rates of segregation play a large role in why the achievement gap is so high in Milwaukee. Segregation in Milwaukee is so extreme due to intense redlining practices that took place from 1934-1968.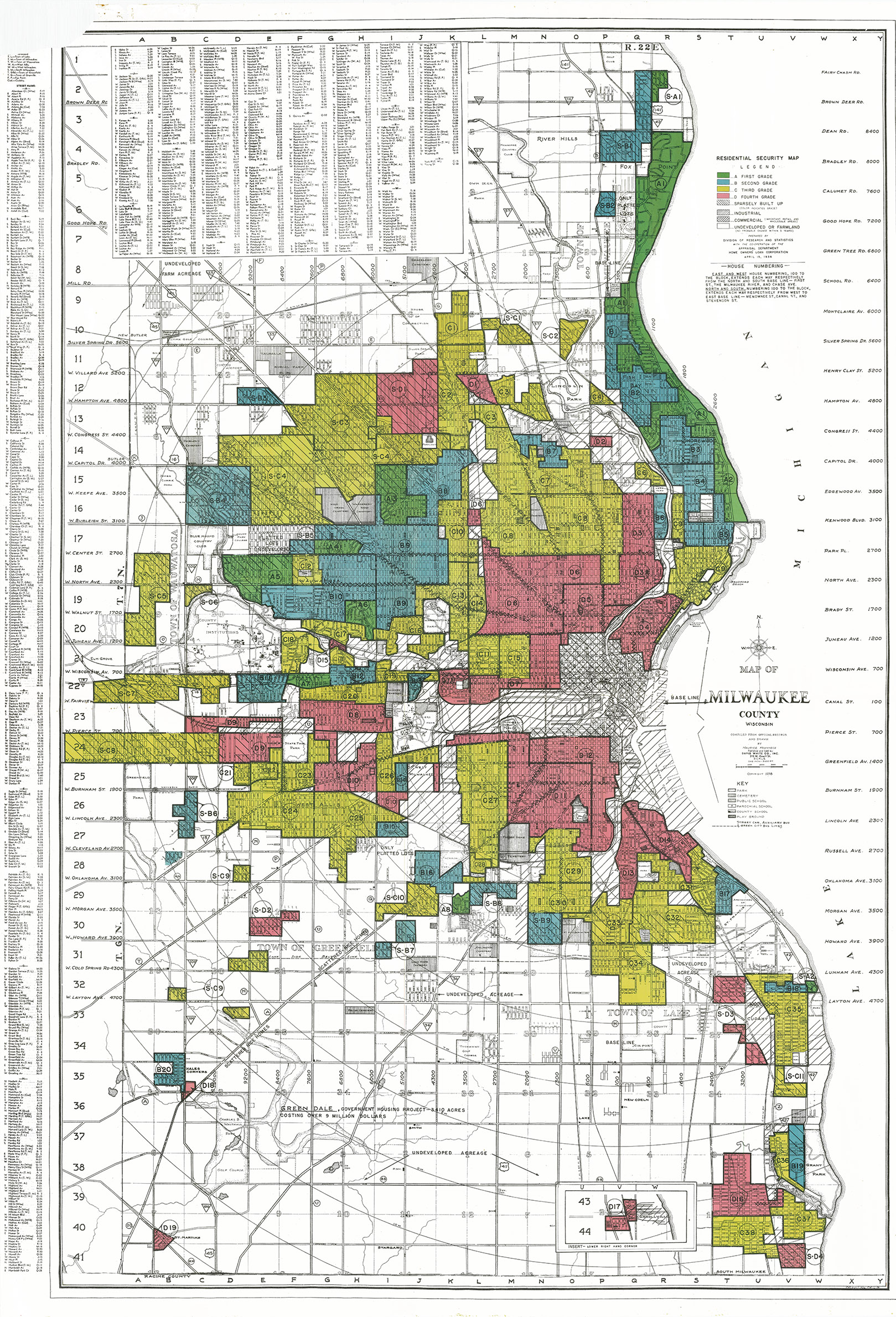 Above you can see a redlining map of Milwaukee, County. If you examine the map closely you will notice that the Town of Wauwatosa is compromised mostly of blue and green areas with some yellow areas mixed in. While the actual city of Milwaukee is compromised mostly of red areas. Currently in Wisconsin, the majority of school funding is determined by the property value. The way this system works is that the higher the property values in an area are the more that residents of that community contribute to public education funds. This means that in areas where property values are high schools receive more funding, and in areas where property values are low schools receive less funding. When Redlining labeled neighborhoods with African American presence as undesirable and not a good investment this ensured that those neighborhoods would have a low property value. Today even though redlining is illegal many of those same neighborhoods are stuck in a cycle of poverty and property values remain low. Because property values maintain low these schools are receiving significantly less school funding than schools in areas that were labeled desirable by redlining such as Wauwatosa.
After examing the Wisconsin Depart of Public Instruction (DPI) report cards I found evidence that school districts that were located in desirable areas on redlining maps are performing significantly better than school districts that were located in undesirable areas. This can be seen in the two images above the image on the top is of the Wauwatosa report card while the image on the bottom is of the Milwaukee report card. The Wauwatosa school district is exceeding expectations while the Milwaukee school district is meeting few expectations. This is a staggering difference seeing as the town of Wauwatosa and the city of Milwaukee are only minutes from each other.
This trend can also be seen in Racine, Wisconsin. Racine is another city that was compromised mostly of yellow and red areas. Schools in Racine, Wisconsin meet few expectations as indicated by the Racine Unified School District above.
In Wisconsin, the achievement gap is not only prevalent in the city of Milwaukee it is a statewide issue. As you can see in the map shown above Wisconsin and Nebraska have the highest racial achievement gap in the nation. Something that Wisconsin and Nebraska have in common is that they both took part in intense redlining practices. In Omaha, Nebraska blacks were forbidden from living in any portion of town besides Northern Omaha. Redlining officially ended in Nebraska in 1969, but in 1971, Omaha's school district was brought to court for work with real estate companies concerning the location of schools and proposed subdivisions. This showed the district helped create segregated subdivisions. Schools located in these redlined areas have historically received fewer resources and struggle academically. If you look at the image above it states that Omaha public schools are in need of improvement.
Whereas if you look at the image above you will see that Gretna public schools are labeled as excellent. Gretna, Nebraska is only a short commute from Omaha and is one of the neighborhoods that blacks were forbidden to live in. Today Gretna remains very segregated with whites making up 97.5% of the population.
In order to desegregate our cities, we need to close the achievement gap so that all of the students in our schools have equal opportunities to excel which will help to break the cycle of poverty that so many families are currently stranded in.
Ways to Close the Achievement Gap
The National Education Association identifies the nine strategies listed below as effective practices for closing the achievement gap.
1. Enhanced Cultural Competence
2. Comprehensive Support for Students
3. Outreach to Students' Families
4. Extended Learning Opportunities
5. Classrooms that Support Learning
6. Supportive Schools
7. Strong District Support
8. Access to Qualified Staff
9. Adequate Resources and Funding
However, these strategies are easier said than done especially when it comes to having access to qualified staff that are prepared to teach in urban schools where the achievement gap is large and students are facing many stressors outside of the academic day. If teacher education programs can graduate students that are prepared to teach in urban schools we will be one major step closer to closing the achievement gap.
One way that teacher education programs can help prepare teachers to teach in an urban setting is to offer classes that specifically cover the history behind urban education, and that tear down the biases about why urban schools are under-performing. Teachers deserve to know the realities behind the inequities that their students are facing so that they know how to best serve them. Teacher education programs should provide hands-on field teaching experiences in schools with a variety of socioeconomic statuses. Pre-service teachers should be allowed to observe in a variety of schools so that they can see the needs of the students first hand before they have their own classrooms.
However, teaching in an urban setting is not for everyone and no one should be pushed to teach in an urban school unless they feel called to do so. For students that do feel called to teach in an urban setting, colleges should provide additional professional development opportunities to help them prepare. Programs such as CfUT specialize in preparing teachers to teach in urban school settings and should be made more available to students on every campus with a teacher education program.
After working with CfUT this summer I can testify to the effectiveness of their program. I would recommend CfuT to any pre-service teacher that is interested in teaching in an urban school setting. Programs like CfUT have the ability to make a tremendous impact on the achievement gap.
The academic achievement gap is a direct result of redlining and other intentional segregation practices that have taken place. In order to close the achievement gap and diminish other injustices that were caused by redlining conscious efforts much be made to bring true equality to our schools and neighborhoods. This did not happen by accident and it will not be fixed by accident. But with perseverance and dedication we can desegregate our neighborhoods for good and provide equal opportunies for all children in the school system.
Objectives
Hybrid/Digital Component:
2.2 Digital writing and publishing – we will be publishing our work in the open. We will have multiple digital assignments, and students will have some agency in choosing which item they'd like to blog about in each module.
Course Components:
Connecting geographic concepts and processes to real-life scenarios
References
Fouberg, E. H., Murphy, A. B., Jan, D. B. H., Jan, D. B. H., & Jan, D. B. H. (2012). Human geography: people, place, and culture. Hoboken, N.J: Wiley.